Concerns over the fast-spreading Delta variant of COVID-19 and a dip in U.S. Treasury rates pushed gold higher for the third consecutive week, boosting demand for the safe-haven commodity. The fresh surge in the Delta variation is raising some concerns about global growth, while data from the United States has started to back down a little, which is supporting gold.
As vaccine shortages and highly infectious coronavirus variations forced more restrictions, Gold, a hedge against economic and political uncertainty as well as increasing inflation, has attracted buyers. We're still having problems with the Delta variant. While the second wave has subsidized in India, and the number of infected cases has reduced, however, the third wave has already started in UK, Russia, Africa, etc, this may hinder economic growth across the world in the next few months.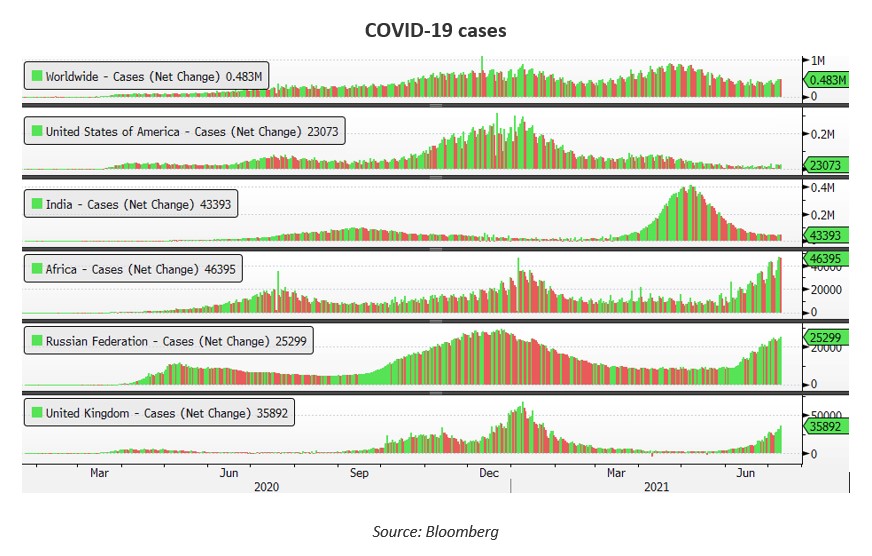 The fact that Real rates are falling is highly positive for gold. The Dollar Index, on the other hand, is holding up well, which is restricting gold's movement. US 10-year Treasury rates remained around a four-month low, lowering the opportunity cost of keeping non-interest-bearing gold. Concerns over the Delta variant posed a threat to global economic recovery, driving Asian stocks to a two-month low. Commodities were under pressure as policymakers throughout the world warned that growing cases of Covid-19 variations posed a threat to the national economy.
According to data released this week, the US jobless claims increased unexpectedly, showing that the labour market recovery is still turbulent. The minutes of the Federal Reserve's June policy meeting were released on Wednesday, and they revealed that while the economic recovery was still not widely seen as complete, FED members agreed that they should be ready to intervene if inflation rose. China's unexpected indication that it could inject additional money into the economy added to the feeling that global recovery is still facing severe headwinds. Fears of a monetary policy tightening by the Federal Reserve have impacted on gold, bringing it down 7% in June.
More than 3.35 billion vaccine doses have been provided globally, or 44% world population is vaccinated. India is trailing other countries with 37.25 Crores individuals (27% of its 1.38 billion population) vaccinated up till now.
Bullion is regaining investor confidence following a gloomy June, as worries grow that the world's departure from the epidemic may be more difficult than expected. Virus worries have resurfaced throughout the world, which is good news for bullion since it means governments may have to stretch their budgets. monetary support to still-fragile economies. Gold is expected to trade sideways in the range of Rs 46500-48100 with a focus on Inflation numbers around the world next week.
For detailed analysis on Gold Markets on daily basis, please visit https://insights.augmont.com/