India is the largest importer of gold, which mainly caters to the demand of the jewellery industry. In volume terms, the country imports 700-800 tonne of gold annually. Gold hallmarking is a purity certification of the precious metal and is voluntary in nature at present. Come 1 June, and jewellers will be able to sell only hallmarked gold jewellery. From June 1, jewellers will be allowed to sell only 14, 18 and 22 carats of gold jewellery.
The Centre, in November 2019, had announced that hallmarking of gold jewellery and artefacts would be made mandatory across the country from January 15, 2021. The government had given jewellers more than a year to shift to hallmarking and register themselves with the Bureau of Indian Standards (BIS). But the deadline was extended for four months till June 1 after the jewellers sought more time to implement in the wake of the COVID-19 pandemic. The government says the aim for mandatory hallmarking of gold and silver ornaments is to protect the consumer against victimization due to irregular gold or silver quality.
So far, around 35000 jewellers have registered with the BIS. In the next one-two months, BIS expect registration of about 1 lakh jewellers, as the registration process has been made online and automatic. The BIS is already running a hallmarking scheme for gold jewellery since April 2000, and around 40 per cent of gold jewellery is being hallmarked currently. According to the BIS, the mandatory hallmarking will protect the public against lower caratage and ensure consumers do not get cheated while buying gold ornaments and get the purity as marked on the ornaments.
How one can verify whether a piece of jewellery is hallmarked or not
Hallmark is basically a certification of purity given by assaying and hallmarking centres (AHCs) accredited by the Bureau of Indian Standards (BIS). A jeweller selling hallmarked jewellery has to necessarily get a licence from BIS before they get their jewellery or artefact hallmarked at any BIS-recognized assaying and hallmarking centres.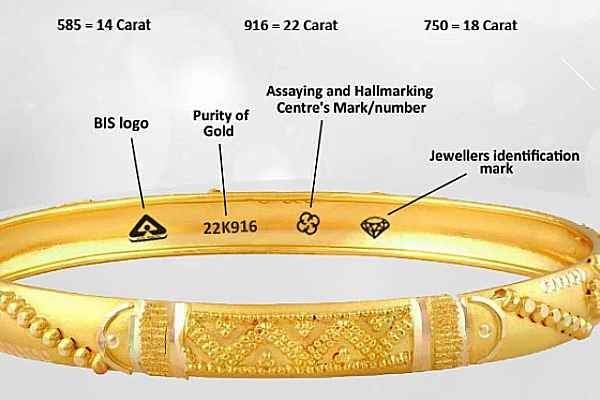 The purity of gold is measured in caratage. While 24-carat (K) gold is considered the purest, it can't be used for making jewellery as it is too soft. Hallmarking of jewellery is done in three categories of caratage—14K, 18K and 22K—which are suitable for making jewellery. In percentage terms, 14K denotes 58.5% purity (hallmarked as 14K585), 18K denotes 75% purity
(hallmarked as 18K750) and 22K denotes 91.6% purity (hallmarked as 22K916). You need to check four marks on hallmarked jewellery—BIS Logo, purity of caratage, assaying, hallmarking centre's identification mark, and the jeweller's identification mark/number.
Issues with hallmarking in India
There are 940 assaying and hallmarking (A&H) centres spread in 245 districts across India and the number of jewellers registered with BIS are around 35000. However, the percentage of districts in several key Indian states without hallmarking centres is very high.
There is no presence of hallmarking centres in 488 districts. 66.58% of the country's total area has no hallmarking centres. 245 districts have hallmarking centres but they are concentrated only in and around the urban area or clusters where there is a heavy concentration of jewellers. It is an admitted fact that only 8% of the entire country has the access to assaying and hallmarking centres.
There are various operational and procedural issues in relation to implementation of the mandatory requirement, which if unaddressed will create an obstacle for compliance of the hallmarking requirements. This will also severely affect the jewellery industry, leading to drastic consequences such as cessation of business, loss of livelihood, litigation and unnecessary waste of time and energy. Mandatory hallmarking in its current state has the potential to affect the livelihood of millions of people and will lead to huge disruption in the century's old jewellery business.
Extension of Deadline
All India Gem & Jewellery Domestic Council (GJC), which has more than 3 lakh jewellers within its fold, has appealed to the Union ministry of consumer affairs to extend the deadline for implementation of mandatory hallmarking of jewellery from June 2021 to June 2022 due to the second wave of Covid-19.
Even India Bullion and Jewellers Association (IBJA) has confirmed that it will be seeking an extension of deadline as jewellers will not be able to comply with the deadline as they are stuck with old stock they were unable to sell due to covid-19. It remains to be seen whether the government will extend the deadline or not. However, if you are planning to buy gold jewellery, it will anyways be advisable to buy hallmarked jewellery.