India's gems and jewellery sector is one of the largest in the world, contributing 29% to the global jewelry consumption. The sector is home to more than 300,000 gems and jewelry players.
The gems and jewellery sector plays a significant role in the Indian economy, contributing around 7% to country's GDP and 15% to India's total merchandise export. It employs over 4.64 million people, which is expected to reach 8.23 million by 2022. One of the fastest growing sectors, it is extremely export oriented and labour intensive.
India exports 75% of the world's polished diamonds as per statistics from the Gem and Jewellery Export Promotion Council (GJEPC). India's Gems and Jewellery sector has been contributing in a big way to the country's foreign exchange earnings (FEEs). Government has viewed this sector as a thrust area for export promotion. The Indian Government presently allows 100% Foreign Direct Investment (FDI) in the sector through the automatic route. The sector employs over 4.64 million employees, which is expected to touch 8.23 million by 2022.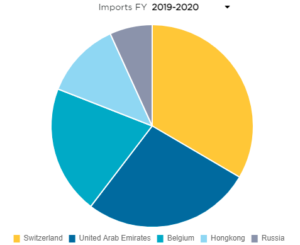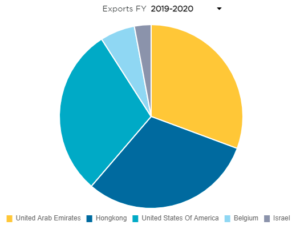 India export of gems and jewelry is composed of a variety of items like cut and polished diamonds, silver jewelry, gold jewelry, gold medallions and coins, rough diamonds, colored gem stones and others. Cut and polished diamonds accounted for almost 64% of the total gems and jewelry export with India exporting 75% of the world's polished diamonds. Gold jewelry accounted for the second- highest share of nearly 18% with silver jewelry having a share of 10%. Rough diamonds accounted for 1.4% of the total gems and jewelry export.

India is one of the largest gold jewelry exporters of the world and export to around 160 countries. In FY20P, India's gold jewelry export stood at US$11.99 million and import stood at US$290.36 million. Mostly high-end jewelry or machine-made jewelry is imported usually from Middle East or South East Asia. The total gold jewelry export was US$24.73 billion from April to November 2020.

in the coming years, growth in gems and jewellery sector would largely be contributed by the development of large retailers/brands. Established brands are guiding the organised market and are opening opportunities to grow. Increasing penetration of organised players provides variety in terms of products and designs. Online sales are expected to account for 1–2% of the fine jewellery segment by 2021–22. Also, the relaxation of restrictions of gold import is likely to provide a fillip to the industry. The improvement in availability along with the reintroduction of low-cost gold metal loans and likely stabilisation of gold prices at lower levels is expected to drive volume growth for jewellers over short to medium term. The demand for jewellery is expected to be significantly supported by the recent positive developments in the industry.