Gold does well when the uncertainty, around us, goes up. And the year 2020 has been extremely uncertain all along the way. Lockdowns to contain the spread of the Covid-19 pandemic have led to unprecedented fears of a slowdown in the global economy. The impending American President's election and the trade dispute between China and the USA have accentuated uncertainty. Another key driver for gold prices is the unprecedented increase in money supply in the global economy. Infusion of liquidity has led to lower interest rates – near zero in developed economies, which has made investors consider investments in gold.
Since touching Rs 58000/ 10 gm in August 2020, gold prices have fallen 24% to trade at Rs 44000/10 gm as the global economy has started to recover after the COVID lockdown ease and the invention COVID vaccine. Now the Million dollar question is whether is it the right time to invest in Gold again and will the prices bottom out here or fall more?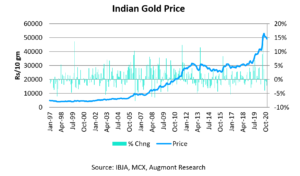 We would advise, one should not invest a lumpsum amount in Gold to add to the portfolio but rather do a SIP every month of a certain fixed amount. The below table shows how the Rs 1000 SIP in Gold has given returns from the year 1997 to  2020.

It can be inferred that Gold has given more than 7% CAGR returns in the last 20-24 years. All types of investors such as Short-term investors (1-2 years investment horizon), Medium-Term investors (5 years investment horizon and Long-term investors (10-25 years investment horizon) have been benefitted and have earned handsome returns in investing in Gold through SIP.
Now we compare returns of Gold Vs Nifty to understand which market has given higher returns in the long term.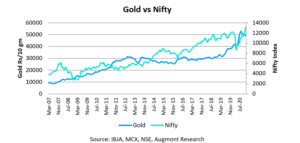 It could be inferred from the above table that when an equal amount of Rs 1000 SIP is done in Gold and Nifty for the long term, both have given almost same returns when we look at all the periods. So investors could equally allocate their portfolios between Equity (Nifty) and Gold if they are long term investors to get more than 7% CAGR returns.
Disclaimer: This report contains the opinion of the author, which is not to be construed as investment advice. The author, Directors, other employees of Augmont Enterprise Private Ltd. and its affiliates cannot be held responsible for the accuracy of the information presented herein or for the results of the positions taken based on the opinions expressed above. The above-mentioned opinions are based on the information, which is believed to be accurate, and no assurance can be given for the accuracy of the information. The author, directors and other employees, and any affiliates of Augmont Enterprise Private Ltd cannot be held responsible for any losses in trading. In no event should the content of this research report be construed as an express or an implied promise, guarantee or implication by or from Augmont Enterprise Private Ltd that the reader or client will profit or the losses can or will be limited in any manner whatsoever. Past results are no indications of future performance. Information provided in this report is intended solely for informative purposes and is obtained from sources believed to be reliable. The information contained in this report is no way guaranteed. No guarantee of any kind is implied or possible where projections of future conditions are attempted. We do not offer any sort of portfolio advisory, portfolio management or investment advisory services. The reports are only for information purposes and are not to be construed as investment advice.