Often overlooked in favor of its precious metal cousin Gold – Silver prices have tallied up an impressive gain of over 80% in the last year. Silver prices are currently trading above $28 an ounce. That's a whopping 85% rise from a year ago when the spot price was around $15 an ounce.
In a similar fashion to the whole commodities sector, Silver is once again starting to attract a lot of attention on a scale not seen since the global financial crisis in 2008. There are several factors at play that have lured traders back into Silver, which include rising inflation expectations, the Fed's pledge to keep rates lower for longer, and of course the upcoming green energy and infrastructure spending boom.
COMEX Silver Weekly Chart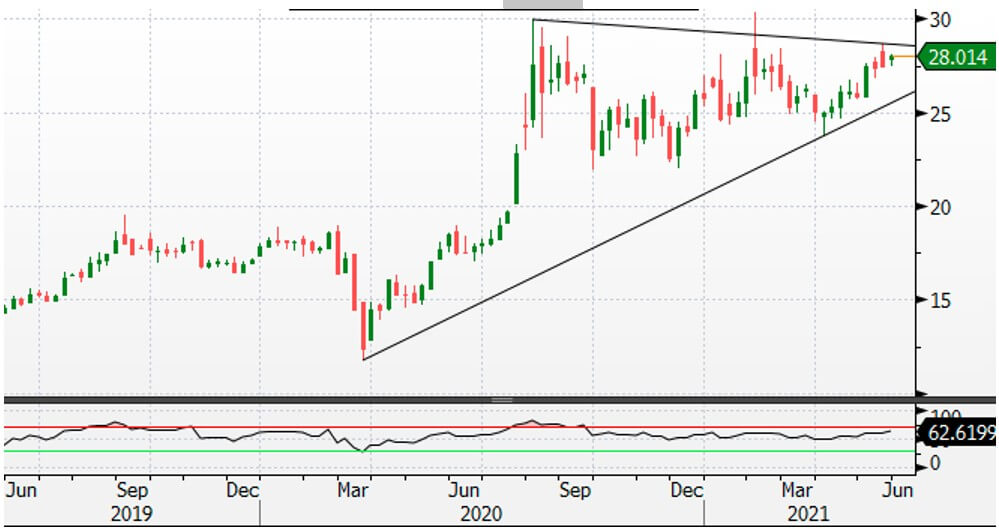 Source: Bloomberg
If you want to know where Silver prices are heading next, then just take a look at the impressive gains across the rest of the metals complex from Copper, Iron Ore to Palladium. This month, Iron Ore broke $200 a ton for the first time. Palladium broke above $3,000 to hit a new record high and Copper prices surpass an all-time high.
In our view, silver should benefit from the "best of both worlds", in terms of its role as both a precious and industrial metal. In terms of the latter, improved economic sentiment had provided a massive boost to base metals so far this year, reflected in the strength in copper which had broken through the $10,000/tonne level for the first time in a decade. The broader LMEX Base Metals Index had also achieved a decade high, reflecting gains across the complex (although by no means as strong as for copper). This in turn had provided some added impetus for the silver price early in the year when gold came under sustained pressure amid rising bond yields. More recently, the rally in base metals took a breath, particularly following warnings from Chinese authorities of excessive speculation. Unsurprisingly, this has also weighed on silver, which helps to explain why the ratio between gold and silver rose late last week
Silver hasn't kept pace as other commodities have reached record highs. About the only consolation is that silver has topped an even smaller rise by gold. They both pale in comparison to the copper rally. Silver may be trading more like a store of value asset so far this year, versus an industrial commodity, many of which are up substantially. That is not really surprising given the gains of last year. Silver futures rose 47% in 2020.
At this point, I think that silver is probably going to go looking towards the $30 level, an area that traditionally means that we are going to break much higher. The couple of times we have broken above $30 on longer-term charts throughout history, we have made a serious search towards $50. I think that could happen sometime later this year, but we choose to buy silver on dips as it offers plenty of value. That would be a major breach of selling pressure so obviously, we could see a flood of money come into the marketplace. That could send the volatility and momentum picking up quite drastically.
Indian Silver Weekly Chart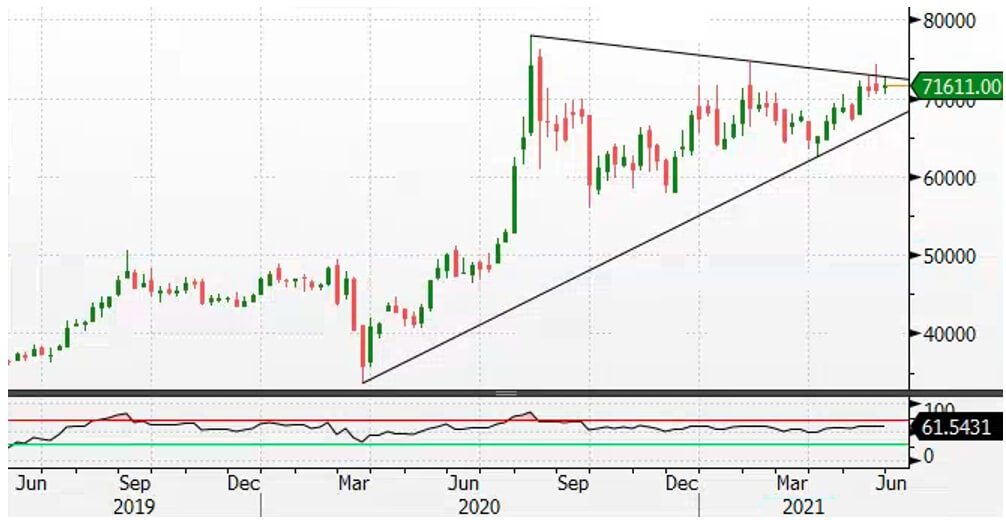 Source: Bloomberg
At Indian prices, Rs 75000 has been an important resistance level. Silver price needs to sustain above this level to start rallying towards Rs 80000 and higher levels.